Offbeat Wedding Planning Resources & Tools
Congratulations on your engagement! Here are ALL kinds of wedding planning resources & tools to help you plan an epic offbeat wedding. This is where you'll find your wedding binder, vendor resources, your wedding website, a great wedding checklist, city wedding guides, and so much more.
Organize your wedding planning
Start with our Offbeat Wedding Planning Tools:
Wedding vendors: Find your offbeat-friendly wedding vendors from photographers to planners to dress makers and more
Wedding websites: start a free (and gorgeous) wedding website
Wedding planning binder: Download our massive pack of wedding planning spreadsheets and organize EVERYTHING, plus the binder includes our much beloved printable checklist that's helped literally hundreds of thousands of nontraditional folks plan their weddings
DOWNLOAD BINDER NOW
DOWNLOAD BINDER NOW
Organization advice:
Offbeat city pages
Wedding planning city guides: the nitty-gritty of how to get married in your city. These are based on the top US cities where Offbeat Wed readers live… coming soon, our top international cities like London, Syndey, and Melbourne.
Sending invitations
Letterpressed lovelies or emailed videos, how will you be letting everyone know the deets?
Tools:
Wedding invitation advice:
Wedding websites
Offbeat Wed has partnered with Joy to bring you free wedding websites catered to the unique needs of nontraditional couples.
Tools:
Wedding website advice:
Offbeat-friendly vendors
Some wedding vendors will look at you funny when you share your nontraditional plans, but the community of folks in our wedding vendor directory LOVE their alternative clients. (Some even offer special discounts just for Offbeat Wed readers!)
Tools:
Vendor advice:
Your wedding budget
Making and sticking to a wedding budget is key to staying sane and keeping your life in balance. We've got tips…
Tools:
Wedding budget advice: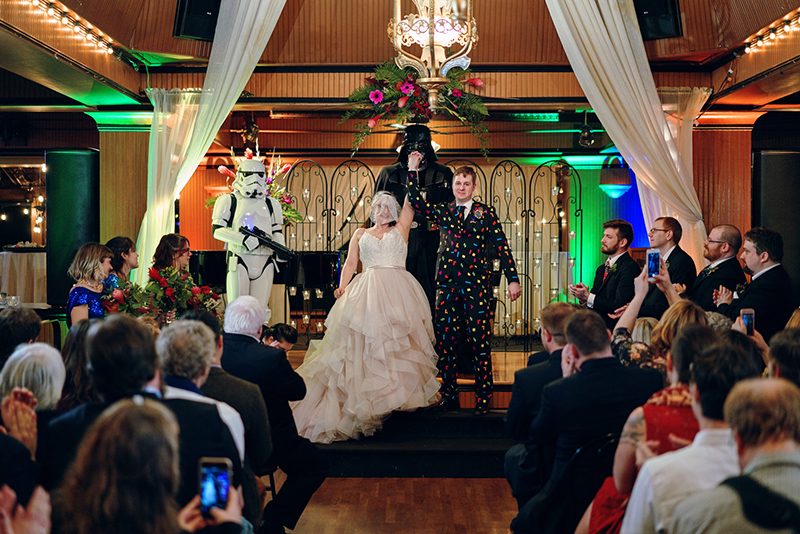 Craft your ceremony
From vows to readings to unity ceremonies and playlists, there's more to ceremonies than meets the eye.
Ceremony advice:
Wedding day timeline
From the crack of dawn to falling into bed at the end of the wedding day, it'll likely be jam-packed. Here's how to get it all organized…
Tools:
Wedding timeline advice:
Find your outfits
Whether you'll be wearing a long white gown, floral pantsuit, super dapper suit, or something that blends them all, your wedding day outfit should totally be YOU.
Tools & Shopping:
Fashion advice:
Decor & Flowers
Decor can be totally optional with the right venue, but if you're handy, crafty, or chic, this is where you can shine.
Decor and floral advice:
Playlists and reception
Tools:
Reception advice:
Themes and real weddings
Having a wedding theme is not at all required, but they can certainly be fun to incorporate as little or as much as you'd like.
Themes and real weddings:
Ready to get started with your planning?
Snag your copy of the Offbeat Wedding Planning Binder and let's do this!
DOWNLOAD BINDER NOW