The power of voodoo! Labyrinth fans, this one is for you.
This Labyrinth wedding inspiration shoot combines the fantasy of a fairyland wedding with the reality of an English Tudor castle backdrop.
Florals with glass globes and touches of ultra-violet, a gingerbread maze wedding cake, a modern labyrinth wedding dress take on Sarah's fantasy ball gown, and even light-up shoes.
Wait until you see the styling with owl feathers, clocks, and masks… as well as bubbling custom cocktails inspired by the bog of eternal stench.
Here's a little bit from the dress designer, Felicity Westmacott, on how it all came about…
As a child of the 1980s, the film Labyrinth was a core part of my film experience growing up. Not only is it a beautiful film with gorgeous visuals and effects but it's an empowering story about female resilience, a rare thing amongst so many romantic princess films back then.

With the underlying story of female empowerment, nothing seemed more right than to start with the idea of a female couple, styling one after Sarah in her amazing fantasy ball dress and the other after David Bowie's Jareth in all his elfin glory, but both updated and with a modern twist. I designed the Sarah labyrithn wedding dress with removable sleeves and overskirt, giving her options to change her look.

We wanted two main backgrounds for our shoot, the maze for atmosphere and the gorgeous paneled interior to echo the ball scene from the film. As home to Anne Boleyn, Hever Castle is famous for its long history with all the traditional elements one could desire from a castle wedding venue: a moat, drawbridge, battlements, maze, and beautiful gardens.
How you turn my world, you precious thing. Are you ready to see this Labyrinth-inspired wedding shoot?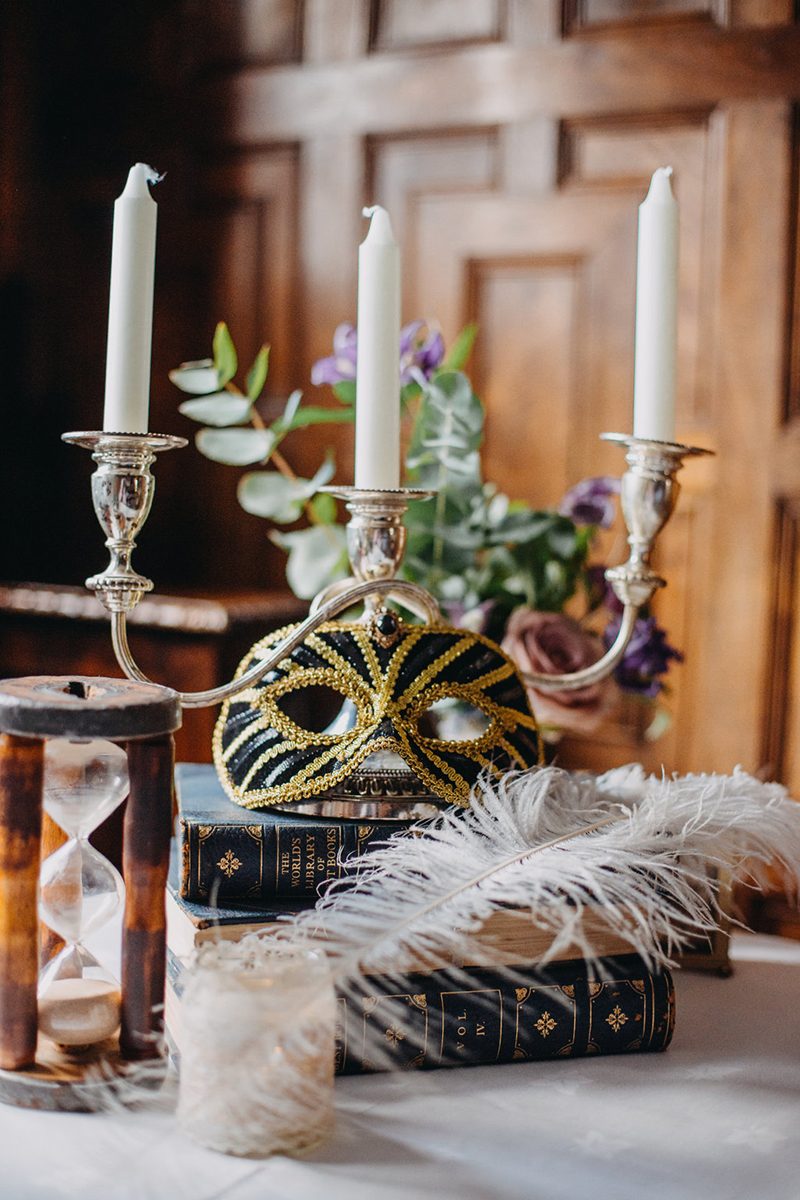 Vendors
Photography: Lex Fleming Photography • Dress: Felicity Westmacott, bespoke wedding dressmaker • Planner/stylist: Laura Devine, Devine Bride • Headpiece: McFayden Millinery • Hair and makeup: Moira Borg and Ann-Marie Lawson • Gingerbread labyrinth: Maid of Gingerbread • Watercolour clock stationery designs: London Wedding Stationery • Calligraphy: Smitten with Ink • Cocktails: Lucy Barrow of Mix and Twist Bartending • Floral design: Green and Envy • Shoes: Elusive Rabbit • Venue: Hever Castle in Kent • Jewellery: The Great Frog
And just for the fun of it, let's look at some more of dressmaker Felicity Westmacott's work