So you've been asked to officiate a friend's wedding. Congratulations! Even if you're someone used to exciting things happening all over the universe (someone like, say, Darth Vader) that's still pretty exciting! That said, unless you've done this before, you're probably a little overwhelmed… but never fear. We've got step-by-step advice for how to officiate a friend's wedding — complete with links to TONS of wedding ceremony scripts and template ideas. Since you're on Offbeat Wed a lot of these are going to be for more non traditional wedding themes, but we think you'll find lots of ideas that are relevant to any bride, groom, or nonbinary marrier.
Step 1: Know the laws in your region
Every city and state has different laws when it comes to who can officiate a wedding. Our Offbeat Wed City Guides include the nitty-gritty of how to get married in your city:
Atlanta • Chicago • Dallas • DC • Houston • LA • NYC • Philly • SF • Seattle
Step 2: Make sure you're legally ordained

Step 3: Build your ceremony
So the first thing you need to figure out is how to order the different aspects of the ceremony. You need to make sure you've gotten a lot of input from the couple you're marrying — they may have a LOT of ideas for you. If they don't, here are some questions to ask them:
What are your priorities?
Do you want the ceremony to have a theme?
How long you want your ceremony to be? (Tell them they don't feel pressured to have a long ceremony if they're not into being the center of attention!)
Are you interested in traditional elements?
How much humor do you want?
If you just want to know about the general structure of a wedding ceremony, here's some guidance from our Offbeat Wed Officiant Pack:
Welcoming of the guests
The wedding officiant enters, usually as the first person in the processional, or sneaks in from the side. This is a nice point for the officiant to introduce themselves, as well as make any announcements (Turn off cell phones? Unplugged wedding?)
Processional
The entrance of the wedding party, if they're having one. You'll learn more about crafting a processional later on page 18.
Gathering Words
Presentation of the couple
In your intro, you can welcome the couple to their wedding celebration, and potentially add a few words of thanks to the person who escorted the couple down the aisle — a twist on the traditional "giving away."
Family ritual
Any special rituals or traditions that honor family would go here, such as a flower presentation for parents. If the guests are being asked to do anything during the ceremony, such as with a ring warming or a wishing stone ritual, this is also the place to introduce it and get it started.
Thanking of family and friends
Using the couple's own words and information, you can do a special thanks for the family members and friends who have joined us. This helps to create an intimate air right from the beginning.
Remembrances
If the couple would like to include any remembrances, this is a good place to include them. A brief moment of silence, lighting of a memorial candle, a wine toast, or just a mention of those that are no longer with us are all lovely ways to acknowledge lost loved ones. At this point in the ceremony, it doesn't bring down the tone very much.
Marriage address
Another way to think of this this section is, "The Love Story." If you like, you can write an original narrative for the couple that talks about who they are — how they met, how they fell in love, and all of the lovely adventures that brought them to their wedding day.
Then you can end with what they love about each other, and their hopes and dreams for the future. It's funny, touching, personal, and very different with every wedding.
This is a great place to include a reading, too, to have as the "center" of the ceremony. It works especially well if you can find a piece that really speaks to the couple. Adding some personal comments about the meaning of the piece is a nice way to personalize it, without having to write a lot. You could also encourage the couple to sit down together and think about what marriage and their relationship means to them, to be shared in the marriage address.
In a more traditional or religious ceremony, this is where the sermon or homily would go.
The Declaration of intent
This is the "I Do!" part of a wedding. The couple faces one another, takes hands, and answers some very important questions about marriage. If the couple is planning on writing their own vows, they can choose to include more traditional vows here, or can customize their own "I Do's."
Wine ceremony or other unity ritual
The unity rituals that represent the life that the couple will share together can go here — thoroughly in transition, not yet incorporation (remember our mini-ritual theory lesson?). Wine ceremonies, presentation of gifts or flowers to each other, tree plantings — there are the rituals that can go at this point, if being included.
Vows
These promises may be read by the couple to each other, or done "repeat after me" style with the officiant. This guide includes vow writing resources and examples, and the Offbeat Wed blog has a huge archive of wedding vows from real couples.
Ring vows
Short ring vows / exchange of rnigs are usually done "repeat after me" as the couple places the wedding rings on each other's fingers.
Note: Vows can be combined! Do you not want to talk? Just do "I Do's." Really want the personal vows, but no "repeat after me?" Do the exchange of rings after the personal vows. This is your ceremony and you can do whatever you want with it.
Unity ritual
Any unity ritual that symbolizes the couple joining their lives together can go here, towards the end. This includes unity candles, sand ceremonies, and the signing of a marriage license, to name a few. This guide includes tons of ceremony ideas, and the Offbeat Wed blog has a MASSIVE archive of unity ceremonies if you need even more ideas from real couples.
Closing remarks
A final blessing or benediction could go here as well. We like to think of it less as an officiant speech and more as a way to bring back important elements or themes from the rest of the ceremony, or end with a short poem or piece of advice for the couple.
If you have bubbles, rose petals, or similar that you want guests to shower you with or do as you walk out, this is also a good place to have your officiant make a little announcement about it. Always check with the venue before commiting to a plan.
Declaration / pronouncement of marriage
The couple is pronounced MARRIED and then they kiss!
Post-declaration ritual
There are a few rituals that can take place just after the marriage is made official such as the breaking of the glass or the jumping of the broom. For ease of use, I recommend including the explanation for these rituals in the closing remarks.
Recessional
It's time to party!
Ask the couple to save every snippet! If they see a song lyric, a line in a poem, an excerpt from a short story, or even a quote on Instagram (we all fall for them), tell them to save it! This can help your friends shape their ideas and even give you some highlights to fill in your general structure.
You might even want to ask them to check out our wedding vow archive, ceremony scripts, and ceremony advice and wedding planning basics if they seem super lost.
Now, what if your couple is like "Meh, you can do whatever you want," and you're like "Oh shit, I have no idea, where is Admiral Motti when I need him"?? We've got great posts to get you started:
Step 3: Help the couple select some readings
Ooh boy, do couples LOVE them some readings. First, read this post on how to find and include readings in your wedding ceremony. Here are a few of our favorite posts where you're sure to find the perfect readings for your peeps:
Step 4: Look at ceremony scripts
This is where things get really fun. You can peruse or straight-up steal from our every-growing archive full of sample ceremony scripts. That said, here are some of our very favorite sample scripts for you to borrow from:
Step 5: Sign and return the marriage license!
After the wedding, it's YOUR JOB to send the signed marriage license and return it to the state within the required timeline. Don't forget this very important part of your responsibilities or else your friends' marriage won't be legal. Yikes! Make sure you know what's required in your state for witnesses, too.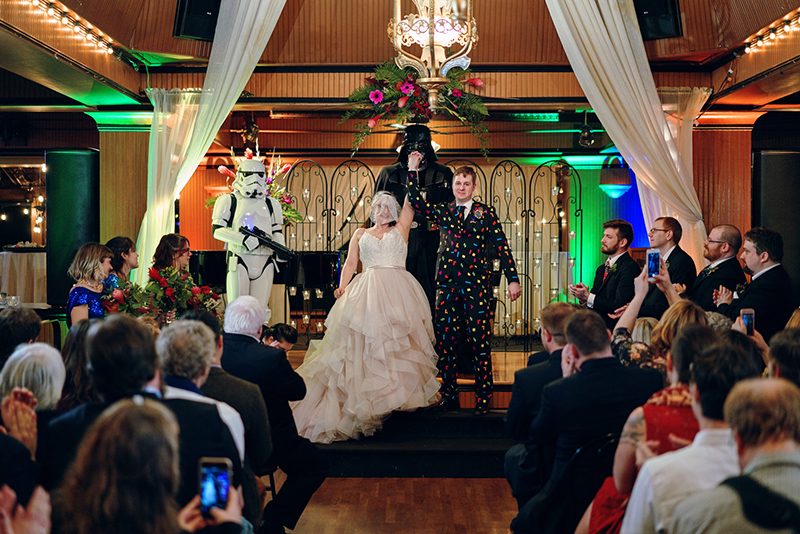 Ooh, want some sample vows? Here are a few from our Offbeat Wed Officiant Pack:
Sample Vows
These are a selection of vows that can be used as inspiration, if you or the couple decides to write your own, or adapted to use in your ceremony. They range from traditional to modern, and cover a wide variety of backgrounds and beliefs.
Sample #1
I, [Name], take you, [Name], to be my [spouse/wife/husband].
To have and to hold, from this day forward, for better, for worse, for richer, for poorer, in sickness and in health, until death do us part.
Sample #2
I, [Name], take you [Name], to be my [spouse/wife/husband].
And these things I promise you:
I will be faithful to you and honest with you;
I will respect, trust, help, and care for you;
I will share my life with you;
I will forgive you as we have been forgiven;
and I will try with you to better understand ourselves, and the world, through the best and the worst of what is to come, as long as we live.
Sample #3
I, [Name], promise to you, [Name], before family and friends, to commit my love to you,
to respect your individuality;
to be with you through life's changes;
and to nurture and strengthen the love between us, as long as we both shall live.
Sample #4
I, [Name], take you [Name], to be my [spouse/wife/husband],my friend, my love, and my lifelong companion.
To share my life with yours, to build our dreams together, to support you through times of trouble, and to rejoice with you in times of happiness.
I promise to treat you with respect, love, and loyalty
through all the trials and triumphs of our lives together. This commitment is made in love, kept in faith, lived in hope, and eternally made new.
Sample #5
[Name], I promise to be faithful, supportive, and loyal and to give you my companionship and love throughout all the changes of our lives.
I vow to bring you happiness, and I will treasure you as my companion. I will celebrate the joys of life with you. I promise to support your dreams, and to walk beside you, offering courage and strength through all endeavors.
From this day forward, I will be proud to be your spouse and your best friend.