I'm helping my gay friend get married to the man of his dreams. My friend decided that he didn't want to go with a typical wedding tuxedo for either him or his partner, and neither one of them would look good in a dress. They definitely want some femininity in their wedding, but not an overdose of it. I was thinking of combining a tux with a dress, but I'm not sure how that would be done. Help? -Lisa
Lisa, congratulations to your friend and his fiance! I am not a gay groom (and therefore don't have any first-person experience to share), but I'm always down to talk fashion, so let's brainstorm a couple ways your friend and his partner could put a twist on their tuxedos.
That said, I'm going to broaden my focus a bit. Since I don't know your friends personally, I'm just going to focus on outfits that have worked for those playing with gender from all directions — from gay grooms, to nonbinary folks, to slightly femmey but totally straight grooms, etc. Also, before diving in, you might want to review our post on tuxedo-alternatives.
Ok, NOW! On to the ideas!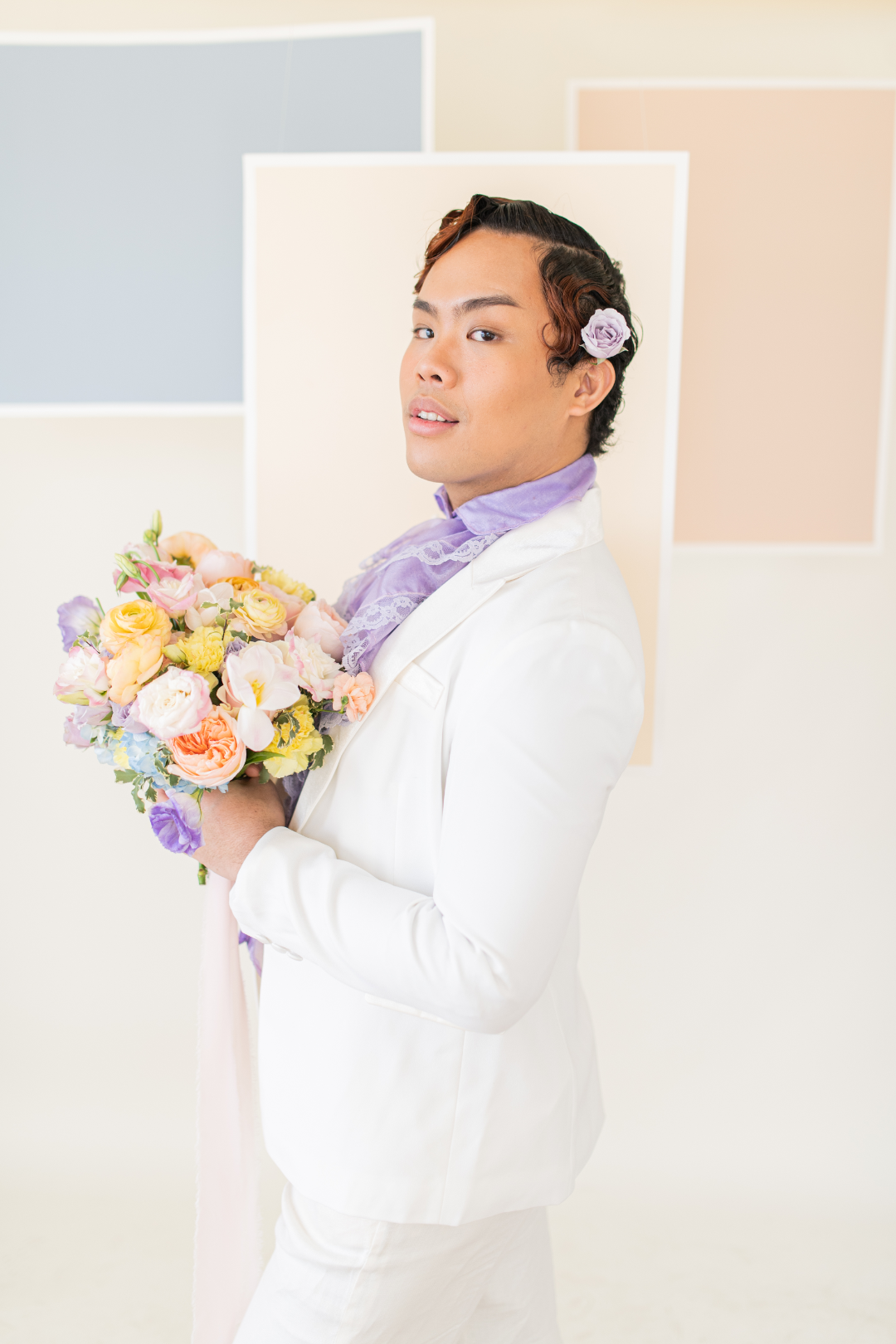 White tuxedo + groom bouquet
If the traditional wedding visual is a groom in a black tux and a bride in a white dress, imagine a groom in a gleaming white tuxedo. Yes, it's still a tux (arguably the ultimate in men's formal wear), but the bridal white gives a very clear indication that something's a bit different here. Your friend could take things to the next level by carrying a bouquet — I love the idea of contrasting a masculine tailored suit with the traditionally-feminine bridal bouquet. If you wanted to take the twist even further, you could go for custom tuxedos with lace edging, buttons down the back, and long train-like tails. The sky's the limit when you get into custom work!
Corset

If your friend wants to veer into full-on genderqueer territory, he could take a little inspiration from one of my favorite genderqueer wedding outfits EVER: Kimberly's truly inspired tuxedo-with-corset look. Personally, I think this is the ultimate for gender-queer women who don't want to wear a dress — I feel like I could write a dissertation about the layers of metaphor and symbolism in a corset-with-tuxedo.
For men who wanted to go this route, Starkers Corsetry does custom corsets for men that are stunning — you can see a couple very theatrical examples here, but I'd imagine Dianna DiNoble could make groom's corsets that are just as sophisticated and formal as her bridal corsets. A colorful corset subtly peeking out from the bottom of a tux could add a stunning silhouette anyone's figure.
Kilt
Of course there's nothing feminine about a kilt, but they can be a relatively traditional way to deviate from the suit/tux standard … and they can be as cheeky as the wearer desires. We've seen lesbians in kilts, gay men in kilts, and of course lots and lots of straight dudes of all sorts wearing them.
Really, I love kilts as a tux-alternative for any and all grooms. Of course there are more traditional Scottish kilts, but we've seen a lot of wonderfully offbeat takes on ye olde kilt too — from punk to hippie — all the way to a kilt with a tail.
As with the white tux concept, if you get into custom kilts, things could get really, REALLY amazing. White kilts? Goth kilts? Steampunk kilts? Lace kilts? Dream big!
Something even dreamier/schemier
Does your friend and/or his partner have any cultural background that might flavor their attire, like the coordinated Achkan-style outfits worn by both Jeff & Talha and Glen & Chitpol?
If not, it's time to start brainstorming. When you say your friend wants something a little femmey, how far would he go? Would he consider a little guyliner or shoes with a slight heel? What if he went relatively traditional, but with a mini top hat with a veil? Or would he want to go glammy-queer Cockettes-style gender-fuck with a smartly tailored suit and buckets of glitter in his beard? SO MANY OPTIONS!
Any ideas from the peanut gallery? I'd especially love to hear some first-person perspectives on gender-queer formalwear!