Thanks to Covid, there are lots of us who got legally married without having weddings. Now, lots of us want to have "weddings," but some etiquette tells us we're not allowed to call them that.
We're all like, "but wait can I call it a wedding if we're already legally married?" We're waiting for the etiquette police to pull us over!
I wonder where the hesitation to call a wedding ceremony a wedding ceremony comes from. Because, generally, a celebration of marriage is called a wedding. Yet, etiquette everywhere tells couples that if they legally wed first that it's a huge faux pas to have a "wedding" after they've legally wed.
Etiquette says they can be called "vow renewals" — but those generally shouldn't occur until closer to ten years later (or maybe after someone breaches the vows). Etiquette also says that those "brides" are not "brides" and should not wear white. Etiquette also says vow renewals are tacky and all about a gift grab. Most of us know Offbeat Bride's stance on the idea of anything being tacky…
…But still. Do we perpetuate this attitude when we hesitate to call our wedding celebrations "weddings"?
My husband and I eloped to reduce the chances of exposing our families and friends to COVID-19. Next summer, we are planning a wedding celebration with family and friends. Some folks call this "getting weddinged," but can't we just call it a wedding?
How I'm wording my invitations
I've struggled a lot with wedding invitation wording so as not to call the event something inaccurate. My save-the-date cards just say "Save the Date" and our names – including our shared last name.
I agonized over invitation wording, I probably have a dozen different versions floating around. Then I found the perfect wedding invitation with wording that was just right.
I'm inviting people to our "wedding celebration."
…That's exactly what we're having!
It's a celebration of our marriage… and those are usually called weddings, so that's what I decided to go with.
What I've learned
I realized through the process that I am not responsible for the way others feel about what I choose to call this day.
I'm not responsible if they feel it is a farce and they are welcome to not attend if that is how they do feel.
I am not responsible if they feel tricked because when we pledge our love in front of family and friends we don't also sign a piece of paper.
I AM responsible for enjoying the day and celebration with my husband and our loved ones. It may be a year after we first said I do, but this is still our wedding celebration and we're going to rock it.
It isn't about rubbing it in people's faces or pretending we aren't married so they aren't upset – it's about celebrating our love and marriage with the people who love and support us.
---
From the editors:
Invitation wording ideas for when you're having a wedding after you're legally married
We love this design from our pals at Greenvelope: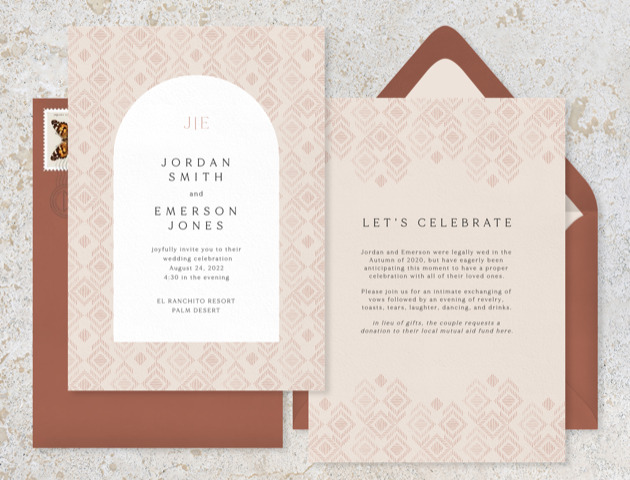 The post-elopement wedding celebration invitation reads:
LAST NAME
and
LAST NAME

joyfully invite you to their
wedding celebration
DATE
TIME
LOCATION

LET'S CELEBRATE
Name and Name were legally wed in the SEASON of YEAR, but have eagerly been anticipating the right moment to have a proper celebration with all their loved ones.

Please join us for an intimate exchanging of vows following by an evening of revelry, toasts, tears, laughter, dancing, and drinks.

In lieu of gifts, the couple requests a donation to their local mutual aid fund here.