This post features offbeat affiliates, meaning that if you buy something featured, you'll be financially supporting this site's mission of bringing awesomeness to readers everywhere.
My surname now is ridiculously common. Googling me is a waste of time. There are zillions of us. After I get married, though, my last name is going to much more unusual.

My school will be taking away my email address, and I'm going to sign up for a Gmail account — can I put my new surname on it and start using it, or do I update everyone's info again in six months after my wedding? What if something I've submitted for publication gets accepted? Can I put my new name on that? How about my website?

I guess my question is this: How early is too early to start incorporating my new last name into my personal brand? When can you start using your married name? -Kallisti
When can you start using your married name socially?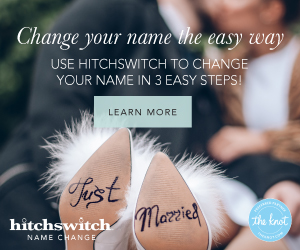 Many people who take their partner's last name start using it socially immediately after the wedding. Like, SUPER immediately. One Offbeat Bride told us: "I still have to do all the paperwork to make it legal, but as soon as I was announced Mrs. MacKinnon after the ceremony, that is what I used."
Some folks even start using it before the wedding. A few examples we heard from Offbeat Bride readers:
I started using it as I was establishing a new business while we were engaged. Bought a domain name, set up and used a new email address, etc.
I started a new job 2 months before my wedding and started using the new last name in email and business cards. I didn't want to confuse people and it was kind of exciting!
I set up my new gaming system with my married name but I'm not getting married until next year.
The big risk with using your new last name socially before the wedding is that, well, weddings can get canceled, for a variety of reasons.
When can you start using your married name legally?
Legally, obviously you should wait until after the paperwork is filed.
This means that if you're talking about stuff like bank paperwork, plane tickets, or even registering for classes, do not start using your last name until all your name change paperwork has been filed.
If you're changing your last name after getting married, we suggest going the easy route using HitchSwitch.
They make the name change process simple, guiding you through the process step-by-step. Prices start at $39, and they make way easier than dealing with all the paperwork on your own.