This post features affiliate links, so if you make a purchase after clicking a link, we may receive a commission. These paid links help keep our website free for everyone to enjoy.
Did you know that we can see what y'all buy on Etsy? I mean, we can't see who buys what, but if you click an Etsy link here on the website, we CAN see which products get purchased. This is super fun because it means we can see what's trending with Offbeat Brides!
And when it comes to unique wedding dresses for 2022? Y'all are ON FIRE. Let's take a look at some of the wedding dress trends that are hot AF with Offbeat Brides this year.
Before we dive in, I want to share a small note in frustration: Apologies in advance for how white-washed these dress photos are. Why do so many wedding dressmakers still only use slender young white models? CAN WE GET SOME INCLUSIVITY UP IN HERE, PEOPLE!? Jeez. Also, for those of you who aren't planning to wear a dress and want ideas for your masc wedding suits, we gotchoo.
Now, that aside: Do you see your wedding dress here??
Trend: Bold colored separates with unexpected fabrics
We've been loving the wedding dress separates trend for a couple years, but this shift toward a boldly colored wedding skirt, with a more traditionally white lace top? Brilliant! It's like the mullet of wedding dresses — traditional on the top, party on the bottom! And when it comes to unexpected fabrics, can we talk about this LINEN bridal skirt? Oof, the sumptuousness.
Oh and speaking of separates, Offbeat Brides are also loving this body suit to pair with their wedding skirts:
Wedding dress trend: ombre or dip-dyed wedding dresses
Wedding dress trend: big sleeves
How glorious are those tasseled long sleeves? There's almost a tiny hint of a kimono vibe there.
Trend: More sleeves — but backless!
Yes, it's a little bit boho with all that lace, but I love how it's a mix of modest with the sleeves and daring with that open back. Plus, that mermaid silhouette is WOAH.
Trend 3: Big flowy sleeves
And then there's these wide lacy boho sleeves on this backless dress:
Wedding dress trend: high-low tea-length
Speaking of mullets, who doesn't love an tea-length gown with a high-low hem? This one's lower in the back — and yes, it has pockets.
Trend: Embroidered & floral wedding dresses
We are HERE FOR IT with these floral embroidered wedding gowns. Offbeat Brides are loving them both in their strapless form, as well as with sleeves. The dress below can have long sleeves or short little fluttery cap sleeves. Either way, super cute.
Trend: super affordable floaty tulle
Dude, it's under $300 and makes you look like a dreamy snow queen who floated over the water from Arendelle. What's not to love?
Trend: 20th Century Vintage
Wedding dress trend: RED wedding dress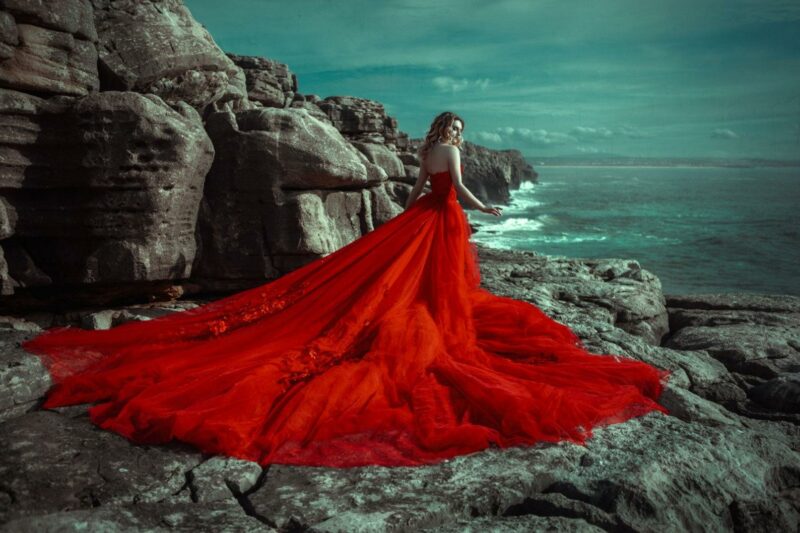 Wedding dress trend: nature-inspired lace dresses
2022 wedding dress trend: NO EFFING DRESS AT ALL
We're seeing more and more brides skip the dress completely and go for a wedding jumpsuit, romper, or crisp little suit.