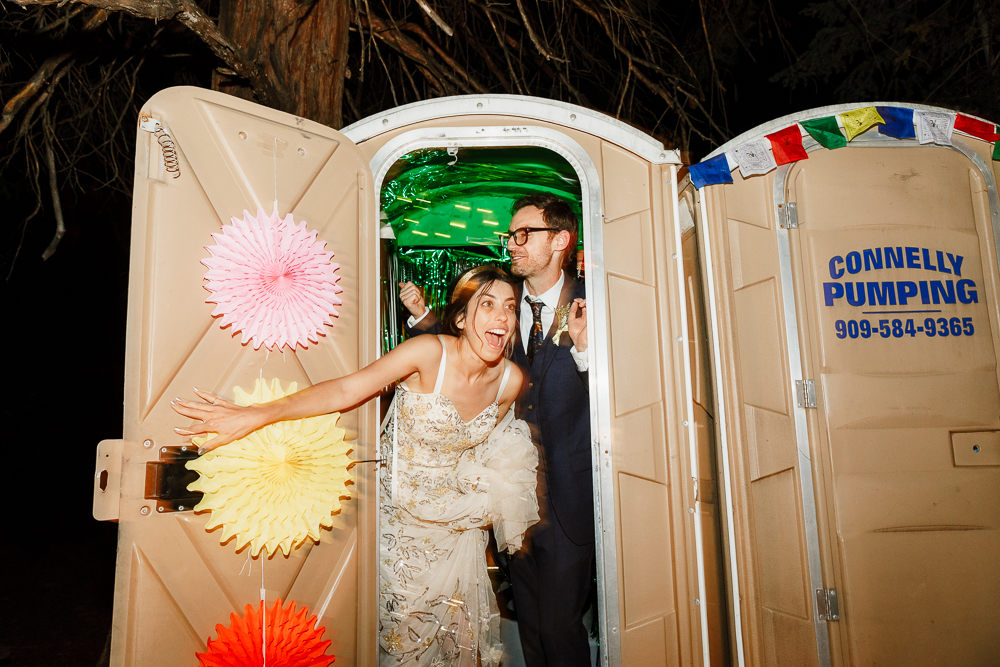 Offbeat partners: Madison and Myke
Location and Date: Camp Wasewagen in Angelus Oaks, CA – 06/04/2022
Our wedding campout at a glance:
Our wedding was over the course of a weekend at a summer camp in Southern CA. Both of us are artists and neither of our styles matches the typical Pinterest wedding. We wanted the atmosphere of the wedding to feel like you were in this surreal forest space.
Madison is an immersive installation artist and puppet fabricator, so we used elements of set design and puppet fabrication to enhance this feeling of stepping into another world. We also tried to get our community as involved as possible.
Our friends lent a hand by gifting us unbelievable flower arrangements, installing a multi-tier hammock over the river and among the trees, a wooden deer sculpture floating in midair, and the most elaborately decorated port-o-potties you ever did see!
We also had activities like a rubber ducky regatta and group yoga — led by our officiant!
We tried to facilitate a space for community involvement and radical acceptance. On our wedding website, we mentioned certain ideals that were important to us, like 'leave no trace', radical self-expression, and community gifting (meaning gifts or random acts of kindness from guest to guest, not necessarily to us as a couple).
Almost everyone was sleeping over, so we designed these camping mugs together as a team. Madison's mom made sure to get all sorts of goodies and soaps to put in the mugs as a gift pack. To our surprise, a bear got to some of the soaps before we could! Luckily we still had enough left to fill the mugs.
Tell us about the wedding campout ceremony:
Our ceremony was the most important part of planning. We wanted it to reflect our ethics and our personalities. We wanted to acknowledge, at least to ourselves, why we were choosing to keep a tradition or lose it.
Leading into the ceremony space, we had a number of luminaries with photos of family and friends that have passed away over the years. These people were a very important part of our lives and we wanted them to feel present in a happy way; like they were supporting us in spirit through their memory.
As our guests took a seat, our friends performed a sound healing session with singing bowls and a hand pan to give a sense of calm and groundedness.
Then our friends Mark and Leah (who went by "Career Club", but are now "CC Nobody") performed the most beautiful song to signal the procession was starting, and they continued playing as we all walked down the aisle. People still talk about their music whenever they talk to us about the wedding. They literally sounded like angels!
As they played, the procession started with two large caterpillar puppets, puppeteered by some of our closest friends.
Next, all the kids at the wedding were "flower frogs" and wore little froggy costumes sprinkling flower petals ahead of us. Followed by our families walking down the aisle.
Myke's sister was his "Best Man," and Madison's brother was her "Maid of Honor," and it was really special to have our siblings in this spot of honor. Instead of having a wedding party, we also asked several of our close friends to help with certain elements of the wedding based on their talents.
Some gave speeches or read poems, some organized events, and some played music or made art. Some were even caterpillars! In the end, this meant a lot more to us and leaned into our friends' interests and talents. It also gave us an opportunity to brag about how great they are when people asked, "Who did that??"
Finally, after everyone else, we walked down the aisle together. We thought this was symbolic of entering this journey together, and since Madison's dad had passed away a few years earlier, it was nice to be able to support each other in that moment. This was a major highlight of the wedding for both of us. It was absolutely incredible to see all of our friends surrounding us both as we walked into the ceremony together.
Our vows try not to mention ownership. We tried to emphasize community and how important everyone in our lives is and how their support makes our relationship stronger. We tried to avoid patriarchal traditions or gender roles. We treated the ceremony and ritual with deference and tried to be as honest and authentic as possible.
Tell us about the wedding campout reception:
Our reception was so fun. We did so much dancing. And again, everyone lent a hand to make it a special event. We have a lot of talented friends and couldn't afford a florist, so we just bought about $500 worth of flowers from the flower district, got some chicken wire, and they went to town!
Myke is Armenian, so his family brought the traditional banquet hall vibe to the woods. We played traditional Armenian music and Myke's dad danced around shot glasses of Armenian cognac. We had Armenian food during our happy-hour, along with amazing desserts baked by Myke's mom.
Madison is Italian-American and her Uncle Bob sings Frank Sinatra at every family function. He was unable to travel to the wedding so we played his CD "Frankly Bob" during the happy-hour and had pasta and vegan "chicken" parm as the main course for dinner, with lots of wine! Myke and his mom did the mother/son dance and we played "Happy Trails" in honor of Madison's dad.
A group of our friends decorated a few port-o-potties on the grounds. This turned out to be one of the silliest, most fun aspects of wedding décor. They did an amazing job.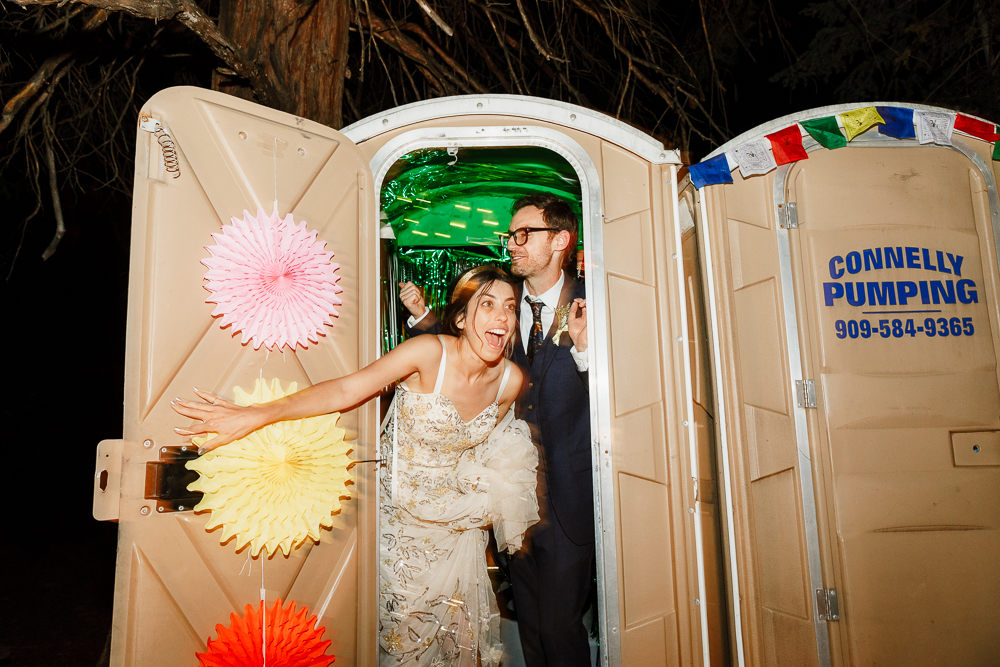 Then there was the outfit change! Instead of spending a ton of money on a wedding dress, Madison got sewing lessons to make a party dress for the reception. So once it got dark we surprised everyone and switched into these fringy disco outfits that Madison made. Everyone went berserk on the dance floor!
What was the most important lesson you learned from your wedding?
Weddings are not like normal event planning. Madison has planned many events and thought this would be kinda easy and fun, but there is so much more emotion in every decision you have to make for a wedding.
Your guest list, your parents' input, finding the vendors that "get you" and are willing to do something unusual, distant guests who expect plus ones, certain friends you want to invite who maybe can't afford to come, societal pressure, etc. And it can be hard to maintain your shape.
Wedding Campout Vendors
Wedding Campout Photo Gallery