Offbeat partners: Denise & Lee
Date and location of wedding: The Poe Museum in Richmond, VA. 2/29/2020
Our offbeat wedding at a glance: The theme was a rustic garden with a goth twist in plums and burgundies in an enchanted sea of green. The Museum's Founders were inspired by Poe's poem "To One in Paradise."
Thou wast that all to me, love,
For which my soul did pine—
A green isle in the sea, love,
A fountain and a shrine,
All wreathed with fairy fruits and flowers,
And all the flowers were mine.
~Edgar Allan Poe
We chose to do a handfast wedding with a ring exchange. [Editor's note: we'll be sharing the full handfasting ceremony script in a few days!] We felt that it was more of our style and the way we feel about each other.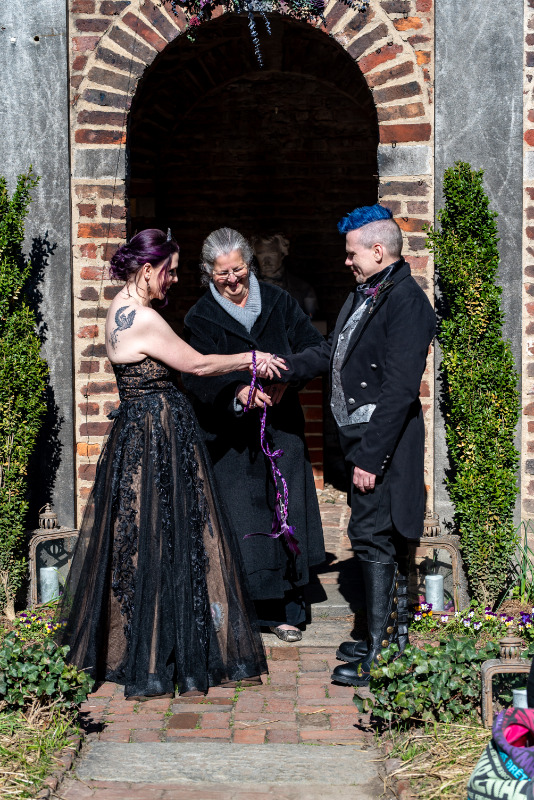 We walked separately on the brick garden steps across the "sea of green" and met at the fountain. He offered me his arm and I then took it as we walked towards the Poe shrine where we would stand and speak our vows. This was done as a symbol of being apart and joining together as we walked past our friends and family.
Our rings are unique. Mine is a gothic wedding set (with skulls) and Lee's was an ogham ring with the wording of my choice, which was our wedding song "Nothing Else Matters."
I had a custom necklace engraved with our wedding date from Pyrrha's "We Two Are One" that features two ravens holding a ring in a heart to reflect on our chosen venue. The description: The ravens on this talisman are symbolic of a strong and mysterious force surrounding you. Together they hold a ring, signifying a faithful and loving bond.
We also had custom bowties made in our wedding colors for The Poe Museum's resident cats Edgar and Pluto!
Tell us about the reception:
We treated our guests to a guided museum tour while we were having our photos taken after the ceremony.
We had our first dance to a cover of "Nothing Else Matters" by Metallica by singer Lissie when the guests returned from their guided tour.
We had a hot chocolate bar, hors d'oeuvres, and then celebrated with a cake ceremony.
What was the most important lesson you learned from your wedding?
The biggest wedding challenge was staying true to our personalities. Establish boundaries from the start. It is your day because when you look back, you get to enjoy the look, feel, and photos. We also felt so loved by our friends and family that traveled a great distance to celebrate with us on our wedding day.
My parents were not able to travel, so my mother made me my "something blue" from a piece of light blue cloth from a quilt my nanny made that I treasure. It is so old, it is falling apart, but that just means how dearly I loved the quilt she made me when I was smaller. It felt like I had my nanny and parents with me that day.
Vendors
Venue: The Poe Museum
Photographer: Aniko Levai Photography
Marriage Celebrant: Mary Lee
Flowers: Pine & Petal Weddings
Wedding Cake: SweetfixRVA
Wedding Toppers: Hidden From The Light
Wedding Favor Boxes: La Boutique De Maria
Guest Book: WorldsSweetestSigns
Bride's Hair: Julie Cook
Bridal Dress: Lexs Of Carytown
Bride's Tiara: The Fawn & The Sparrow
Bridal Necklace: Pyrrha
Bride's Rings: Sapphire Design Studio
Groom's Attire: Historical Emporium
Groom's Ring: Arnua
Groom Boutonniere: Dear Martian
Cat's Bow Ties: Cheeky Chic Bows
Handfast Cords: The Toadstool Garden
Rustic goth enchanted garden wedding gallery
This slideshow requires JavaScript.