Offbeat partners: Shane & Ian
Date and location of wedding: Access Point #7 Okaloosa Island, Florida — 06/18/2021
Our offbeat wedding at a glance: We didn't have a specific theme for our wedding, as we wanted to keep it very simple and relaxed. We've been together for over ten years, and in that time we decided we wouldn't have a big wedding. We also have three children under the age of nine, so we knew we needed to keep it quick and easy and flexible since they're very high energy.
We spent the early part of the day at a local park in downtown Fort Walton Beach. We let the kids play and took photos with our amazing friend and photographer in my beautiful starry dress styled with a pinup look.
The plan was to have a sunset wedding but tropical storm Claudette blew in and we had to act fast. I wanted to preserve my dress and wore a boho bell-sleeved dress instead with a flower crown my mother-in-law gave me.
When we saw a clear spot in the radar we sent the word out and rushed to the beach to have the ceremony before it started pouring.
Tell us your beach wedding ceremony
Our ceremony was simple and sweet! We had no decor, only the crashing waves and stormy skies. Our friend and officiant started the ceremony with a reading of a poem JRR Tolkien wrote for his wife. Then we said our vows, which included a portion about the raising of our children together, and finished with a traditional Scottish blessing. We aren't religious but it felt right since we've been discovering my husband's ancestry in Scotland. We kissed, turned and jumped the broom! Our children ran and played while we said our vows and took photos and our friends and family all joined in fun. Shortly after the ceremony ended, the skies broke and we were drenched in pouring rain. It was so fun, and exciting, and perfect!
We got everything we wanted, a Tolkien poem, vows we wrote and said "I do" in unison, and jumped the broom together, all under a moody sky while waves crashed behind us.
It was the perfect, budget-friendly, simple, and fast ceremony that we dreamed of to "officially" seal the deal after building a life together for the last decade.
Almost everything was gifted (the gorgeous decorated broom from our friend) or purchased from a friend (the cupcakes and small cheesecakes were baked to perfection by a friend as well!)
Tell us your Tolkien wedding reading:
Here's the Tolkien wedding poem we used:
Lo! Young we are and yet have stood
like planted hearts in the great Sun
of Love so long (as two fair trees
in woodland or in open dale
stand utterly entwined and breathe
the airs and suck the very light
together) that we have become
as one, deep rooted in the soil
of Life and tangled in the sweet growth.

Do you promise to accept each other as you are now- and continue to do so as you grow and change?

Do you promise to support each other through the seasons of your lives together- the joyous and sorrowful, exciting and mundane, difficult and peaceful?

Do you promise to continue the wonderful work of raising the beautiful children you've brought into the world together with gentleness and consideration?

Do you vow to love each freely, honestly, and as completely as you have while building a life together the last ten years- until death do you part?

May God be with you and bless you.
May you see your children's children.
May you be poor in misfortune,
Rich in blessings.
May you know nothing but happiness from this day forward!
Our ceremony really reflected our relationship. The easy way we wake up and choose each other every day. We've had our fair share of hardships in the last decade, but we wake up every day choosing each other, as best friends and partners in parenting. My husband Ian celebrates me and accepts me exactly as I am in the moment. I deal with chronic pain, mental health struggles, my identity as a bisexual woman in a straight passing relationship, and he loves me so completely in the quiet way someone does when you've spent a decade together, and know them completely. I feel like the luckiest woman on the planet.
Tell us about the reception:
We did not have a traditional reception. After we left the rainy beach we ran and changed into casual clothes and went to Tijuana Flats, a local Tex-Mex restaurant and ate tacos and cupcakes! We just spent time relaxing and chatting with our friends and family, and it was wonderful. The staff was super accommodating and we ended up sharing our cupcakes with them. It was super fun, casual, and just what we wanted.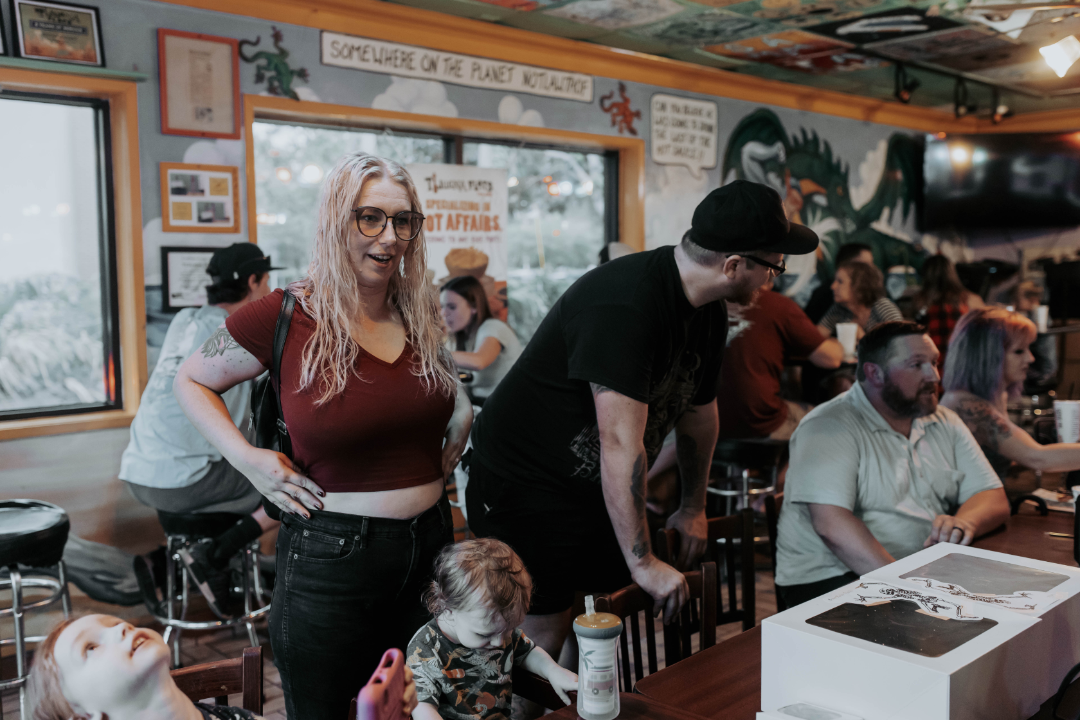 What was the most important lesson you learned from your wedding?
I learned that it's okay to lean on my friends and family. Even our very simple and small-budget wedding became stressful for me and everyone showed up for us. Drove 6+ hours to be there. Crafted beautiful things for us. Supported us through the decision-making.
We have two autistic children and a wandering toddler and the way everyone (some friends we hadn't seen in years!) came together to help us by playing with our beautiful children so we could document the day and just accepted our family with so much love. It was amazing.
We felt so loved and celebrated and it really helped me to realize that distance and time don't matter… when people love you, they just show up. I hope I can show the same kindness and acceptance and showing for them as they did for us.
Tolkien Wedding Vendors
Gallery