The offbeat bride: Shelley, video game artist
Her offbeat partner: Erik, grad student
Date and location of wedding: The Andiron Seaside Inn and Cabins, Little River, CA — July 7, 2012
Our offbeat wedding at a glance: Our main goal was for everything to feel fun and casual, while still feeling very special. We splurged on catering and a band, but the caterer made a delicious barbecue buffet instead of a sit-down meal, and the band was a bluegrass quintet instead of chamber music. Everything had a slight tinge of silliness and irreverence.
I'm an artist with a degree in sculpture, and Erik is in grad school for robotics, so we are both pretty crafty individuals. It started with our save-the-dates and invitations, which I designed. I used nails and wood blocks to make string-art table numbers, Erik used a laser cutter to make our wooden place cards, and I hand-lettered signage instead of printing programs or menus.
We made pennant garland out of expired aeronautical charts, which we just had lying around because Erik is a former pilot. A fair number of our guests were also pilots, so it was a fun element for them to explore, looking at all the map pieces for places they might recognize.
Some of the craft projects definitely got out of hand. I decided at some point that while we were hiring a florist for the bouquets and boutonnieres, it would be more cost-effective to make all of the flowers for the table decorations out of paper. Well, 400 flowers later, I'm not sure what madness inspired me. It was probably cheaper in terms of money, but I lost a lot of time and a little sanity. They turned out exactly how I envisioned though, so I don't regret it.
The other crazy thing was the big pom-pom installation on our dessert table. I bought something like 15 skeins of yarn and some plastic pom makers. It became a joke that whenever we were hanging out with friends, they were forced to make pom-poms. I really didn't have a plan; all of the poms were still loose in a huge trash bag on the morning of our wedding. I had no clue what to do with them, but my amazing bridesmaid Allison (who went to art school with me) just sat down and started tying them together. It turned into a really cool art piece, and now it's on display in our house.
Tell us about the ceremony: We had a very brief ceremony, officiated by a close friend of ours. It was totally secular and free of gendered language. I think the whole thing lasted less than 10 minutes! There were no readings, just some sweet and irreverent commentary from our officiant. Example: a blessing of our relationship that included all of our guests shouting "Hooray! Hooray!" which is definitely the silliest thing that ever made me cry. Our officiant also wrote some extremely touching words that still make me tear up to read:
Shelley and Erik love each other, and have chosen to be with one another. Their love is warm and inclusive, a love that reaches out and wraps itself around those who are near them. It is an enfolding love, an embracing love. What is significant today is not that they are committing to each other, but that they want to share that commitment, that joy, with all of us, so that we can celebrate together.
We exchanged rings, and it was a surprise that Erik had made my ring himself. We wrote our vows together, and as our officiant read each one, we responded "We will." in unison:
Will you always keep making brownies at midnight, even on a school night?
Will you always share amazement at the universe that made two tiny specks so perfect for each other?
Will you always listen to each other, and speak up when something must be said?
Will you always work only when you must, and play whenever you can?
Will you always love and respect one another, for the rest of your lives?
At the very end of our ceremony, our officiant said, "I now pronounce you married. You may high-five. Now make out!"
Our biggest challenge: I was very worried about the overall challenge of planning for and designing a wedding that was happening three hours away, at a venue that wasn't providing much except awesome scenery. The tricky thing was that we don't own a car and neither do a large majority of our friends who live in San Francisco. After playing borrowed car roulette, we ended up with just the right amount of transportation for us and all of our decor, crafts, clothes, flowers, and everything else we brought ourselves. We rented some things from a local rental company in the area, mainly tables and chairs, and a tent. I did a lot of obsessive planning for contingencies (Extension cords! Zip ties! Tool box! Hot glue gun!) since we wouldn't be near our home or any kind of large city.
My favorite moment: 30 minutes before the ceremony was supposed to start, Erik and I still hadn't written our vows. We were still running around finishing up last-minute details. Our officiant had to drag us both to our cabin and lock us in, demanding that we finish the vows. I'm so grateful that she did, not only because I would have kept putting it off, but also because it gave Erik and I about 15 minutes by ourselves, being calm, and contemplating how much we love one another.
My funniest moment: Our first dance was overall a pretty standard, slightly awkward dance. Except we had our DJ (also a close friend) remix the song to launch into Rick Astley's "Never Gonna Give You Up." Yup, we rickrolled our wedding.
For the bouquet toss, I made a paper flower bouquet out of scratch-off lottery tickets. Things went a bit crazy when it got stuck in some telephone wires. I freaked out at the time, but it made for some of the best action photos of the day.
Was there anything you were sure was going to be a total disaster that unexpectedly turned out great? We knew the whole event would happen on our venue's grounds, but everyone assumed we wanted to rent a huge tent. To us, the fact that it was actually outdoors and not inside a stuffy tent was super important. We compromised by renting a smaller tent for most of the tables and the food, but the head table and dance floor were in the open air.
I was terrified that it might rain, since West Coast weather can be really random, but my fears were unfounded. It was super foggy all day, and a bit chilly, but we had patio heaters. If anything, the fog made for great pictures because it acted like a huge softbox. (I was sad to miss out on golden hour pictures, though.)
The funniest near-disaster was a couple of hours before the wedding. When the band showed up, I went over to greet them, and they told me, "You never sent us the address of the venue! We had to Google your name, and found your wedding website!" OMG! Our venue had no cell or data reception, so they had been trying to get hold of me to no avail. I felt really dumb. Thank you, Google!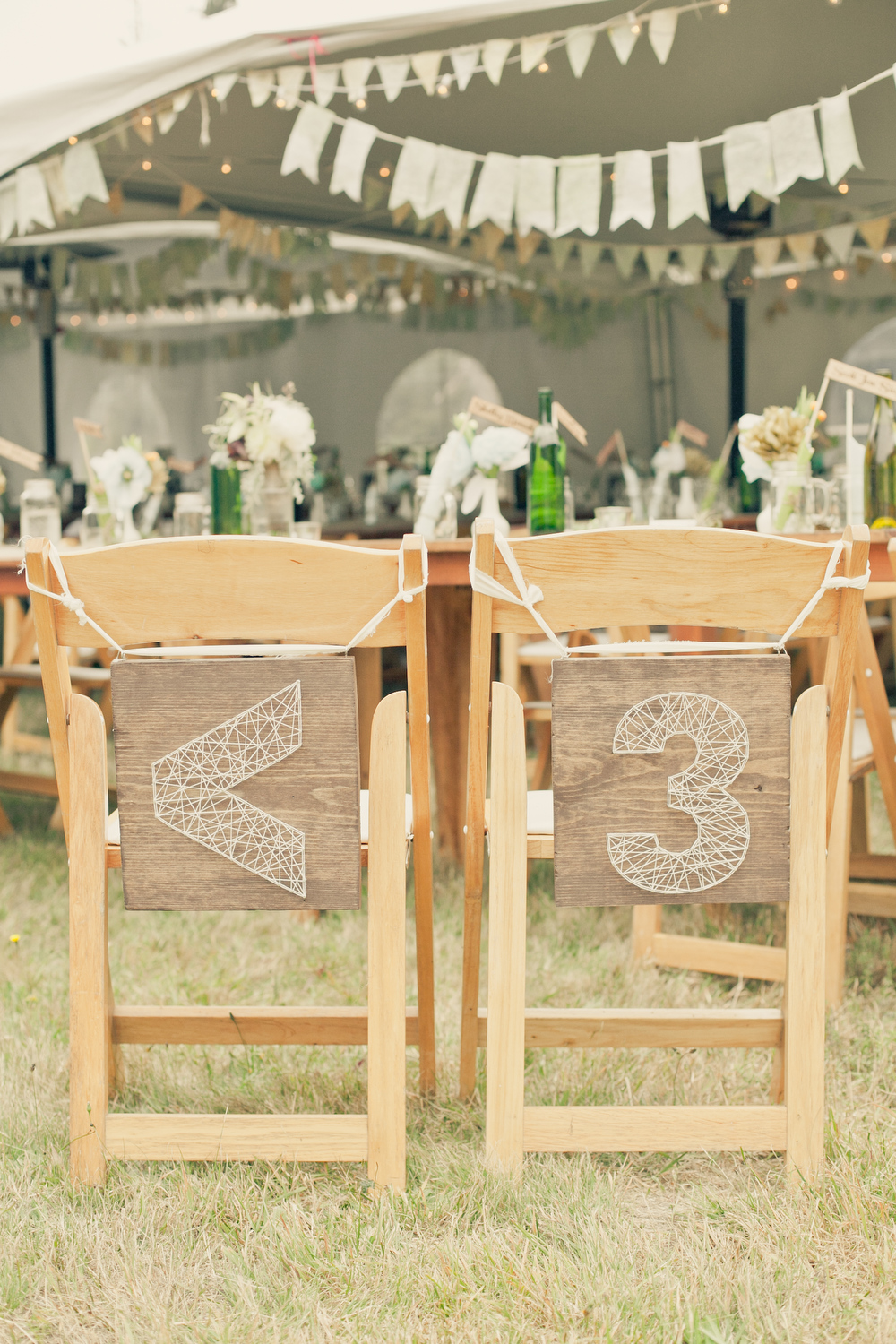 What was the most important lesson you learned from your wedding? Trying to do so much ourselves really proved to me how amazing our friends and family are. We had a rotating cast of helpers at our house nearly every night leading up to the wedding, helping me make flowers and other things. At the venue, we had a tent set up, but we installed everything else ourselves. Once we were at the site, our engineering-minded friends hung and strung the lighting, our crafty friends set the tables, and everyone in between found little ways to help that basically made the whole event come together at the last minute like magic.
Care to share a few vendor/shopping links?