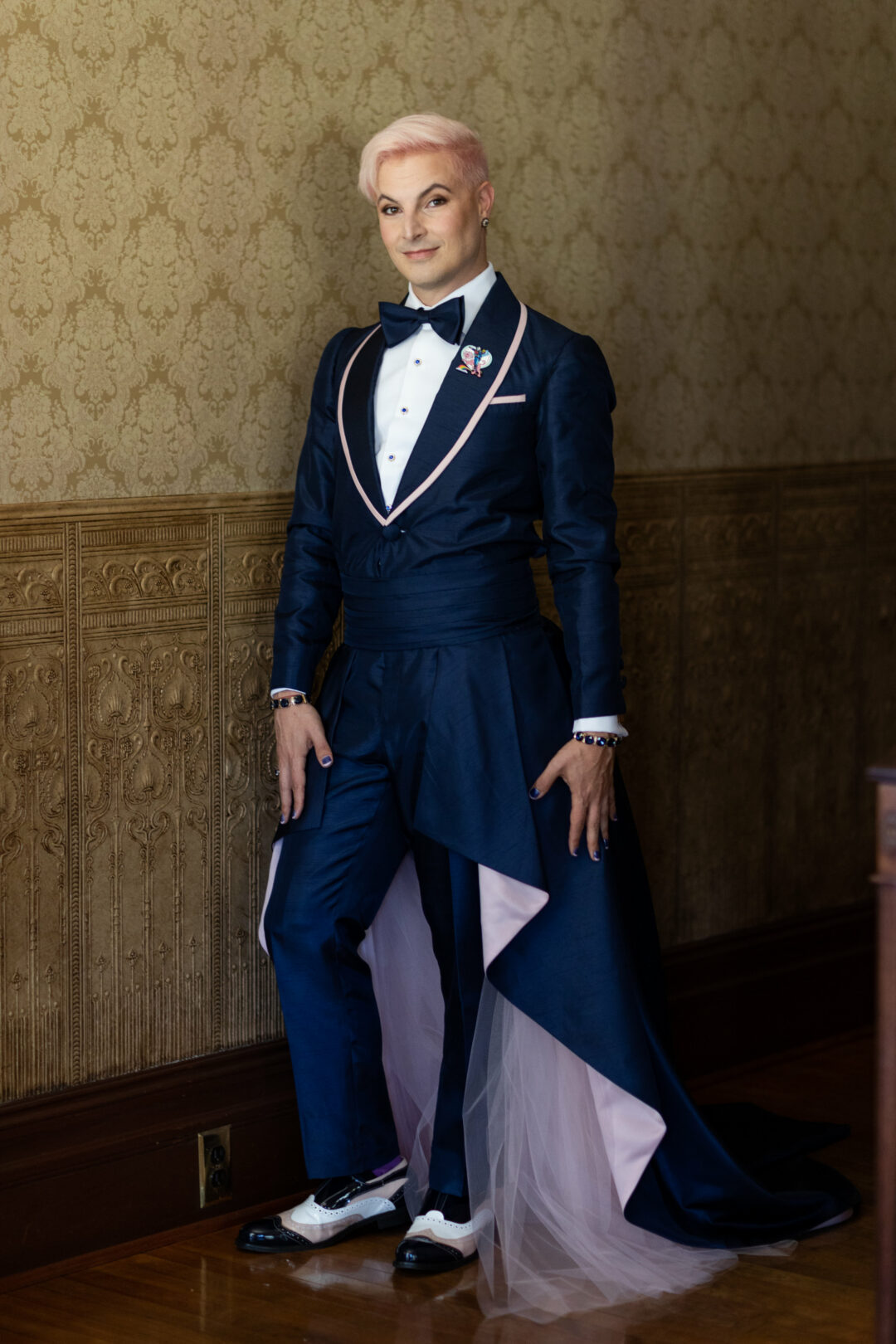 Y'all, we need to talk about Scott and JP's wedding, and especially JP's gueer groom fashion — he wore the most phenomenal custom-designed garment. To call it just a suit is to vastly understate how iconic this outfit is. JP identifies as genderqueer, and we are blown away by how his wedding outfit integrates the full spectrum of gender glamour from every possible angle.
But he wasn't the only groom who went high fashion — look at his future husband Scott's dapper pink suit with that vintage striped shirt underneath.
We feel like we've been seeing more grooms get more daring and creative with their suits this year (I mean, some of these looks are amazing!), but these two queer grooms took their creative wedding outfits to the next level. Let's get the full breakdown of this queer groom fashion…
JP told us:
Our wedding was nothing short of… a fairytale come true. So many people to thank, but for starters: the best wedding planner in the business and the ONLY one we would've entrusted something this queer @mrjasonmitchell; our venue at @camarilloranchweddings for the "Meet Me In St Louis" dream, and to our photographer @melanie_mishler who is not only family but the best damn pic taker in the biz.

@scottbarnhardt and I were determined not to code switch for anyone's comfort. Because I believe that the hearts and minds open to change (which are the only ones we can reach anyway) respond most to unabashed vulnerability, heart, and truth. Not always. But a lot.
We'll be featuring Scott and JP's wedding full wedding soon, but today we just want to obsess over JP's outfit. Lucky for us, he was willing to share the details of the look with us. Seriously, this is one of the best wedding outfits we've ever seen.
Here's what JP had to say about his wedding outfit, truly a pinnacle of queer groom fashion:
HAIR: By the incomparable @tonia_jost. She's been my stylist for years and we've been testing this look since January. I wanted "gossamer cotton candy." Check!

SHIRT: Custom from @propercloth. Super comfy, and shockingly breathable.

NAILS: @blissonbroadway in the LBC. My bestie @monachatterjee took me for my first gels! I wanted a twist on the typical French manicure with blue base and pink tips.

JEWELS: The cuff links were my dad's. The bracelets were $5 at a department store and turned my wrists blue (worth it!). The ring is my mom's (something borrowed!). Earrings: EBay. Studs: Etsy. And the Skeletor/Hordak lapel pin is by the amazing @andrewahernart who also did a custom graphic for our favors.

SHOES: Custom (and on-sale!) by Girotti. Comfy? No. Well made? Eh. Customer service? Horrid. Perfect look? YES.
THE GARMENT: Custom design and build by @patryq65 with additions/tailoring by "Jack" in Burbank. I was inspired by a specific outfit in Auntie Mame (I lived for that movie. I don't condone the Asian stereotyping or exoticism but the flick is otherwise a gem) and my friend @go4erin mentioned a designer from @werehere that would be amazing.

Patrick got the concept immediately, and though it's difficult to figure out a custom outfit from across the country, he did a wildly good job.

Once it arrived, my darling @courtenaytaylorla had a tailor who handled all the final alterations, and the final piece fit like a glove. The tulle underneath was removable and the train bustled.

Then the whole train tore away with the outer cummerbund for our lip sync (more about that in a future post!) revealing tails…
We'll have lots more about this gorgeous queer wedding coming soon, including all the attire details about Scott's outfit, too. I mean, look at that bow tie!?