Konnor and Kirstin combined all the things they loved: Star Wars, superheroes, and celestial details to throw a comic book wedding that was out of this world.
Kirstin said:
It was important to have as much Konner as there was me in our wedding. So the things like the light sabers, the hidden Batman, comic book boutonnière and the ties were really important to us so we were both shown in the aspects of the wedding. The moons and stars were all me.
We love the fun celestial and nerdy details woven throughout this comic book wedding. Don't blink or you'll miss the subtle superhero moment in the ties. Kelly Urban Photography shared a meaningful moment from Kirstin where her father got a brand new 2022 penny minted for her to wear in her shoe. And OMG, wait until you see the spiky wedding shoes themselves!
Ready to blast off into this celestial meets nerdy comic book wedding?
Let's swoon over these sparkly rings!
Legend has it wearing a freshly minted penny inside a spiky wedding heel is EXTRA lucky.
We're wild for this waterfall flower bouquet!
Can you spot the hidden Batman in the wedding cake?
Can you notice the subtle superhero ties?
We're in crazy for these comic book boutonnieres!
Try not to cry when you see Kirstin's reaction to their first look.
Bring on the flower dude with the space-themed fanny pack!
Notice how the painting unity ceremony matches Kirstin's blue hair!
Nothing more bad ass than a bride wielding a light saber on her wedding day.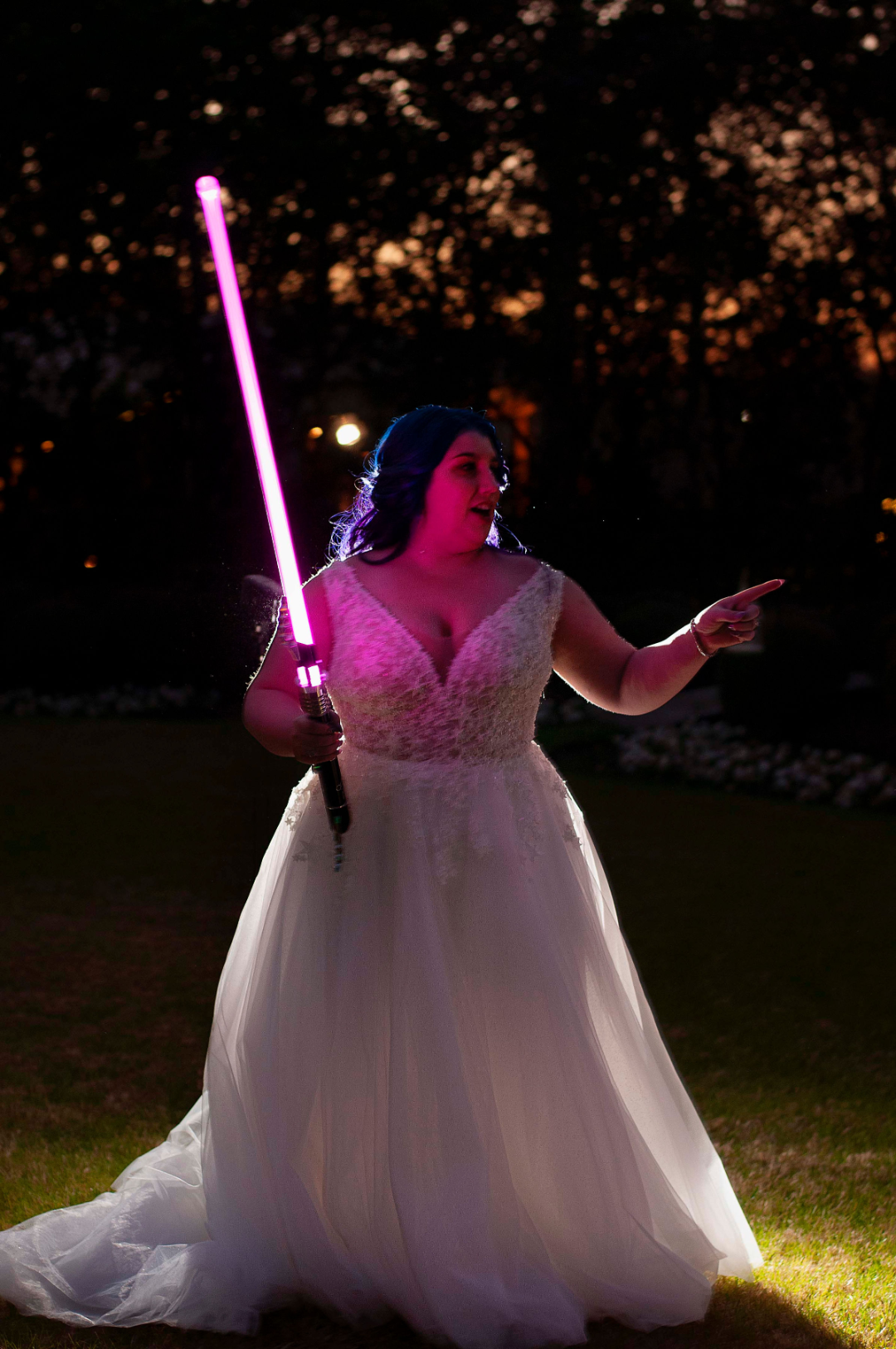 Kirstin's favorite part was their final dance alone before the grand exit.
Major heart eyes to Kirstin and Konner for combining celestial, Star Wars, and superheroes into this epic comic book wedding!
Vendors behind this comic book wedding: